Essex AP Racing Competition 9449 Brake Kit Rear E9x M3 E82 1M
Part #: 13.01.10050
Brand: Essex & AP Racing
Complete rear Essex Designed AP Racing Radi-CAL Competition Brake Kit for the E9x M3 E82 1M.
Retains OEM parking brake functionality
Saves 17 unsprung lbs. vs. OEM brakes
Features AP Racing CP9449 Radi-CAL four piston calipers
340x28mm, 60 vane AP Racing disc
Every component designed to resist the heat of extended track sessions
Pistons sized properly to allow for seamless integration with OEM master cylinder and ABS system
Designed to work with our front Essex/AP Racing Competition BBK's
Advantages Over OEM Brake System
Our CP9449/340mm Radi-CAL Competition Brake Kit offers our customers the following advantages over the OEM brake system:
Approximately 17 lbs. of unsprung weight reduction from the car
AP Racing Radi-CAL calipers are the stiffest, lightest, and most technologically advanced calipers available at any price
Calipers use a commonly available brake pad shape
Ventilated, domed back, stainless steel pistons keep heat out of the brake fluid and provide an ultra-firm pedal
Mitigation of pad knockback via anti-knockback springs behind the caliper pistons
Anodized caliper finish that is resistant to wear and deterioration at elevated temperatures
Stainless steel caliper hardware for a long caliper service life under frequent pad change conditions
High temperature, low drag seals that will hold up to track temps= less rebuilding and longer service life
No dust boots to burn up
Simple pad change with one bolt, no caliper removal required
Lifetime professional caliper rebuilding support by Essex (at a fee)- pull off your calipers, send them to us, we clean, inspect, and rebuild them
Available disc burnishing service ensures that your kit arrives ready to be installed and driven hard immediately
Championship winning, 60 vane, fully floating, AP Racing J Hook racing discs
Anti-knockback/anti-rattle disc attachment hardware
Replacement iron disc rings available at an extremely competitive replacement price ($375 each).
Disc metallurgy specifically designed to handle the temps typically seen on track offer a long service life
Highest quality, Spiegler stainless steel brake line with clear sheath that reduces compliance over OEM rubber design
WHAT'S IN THE BOX?
One pair AP Racing CP9449 Radi-CAL Pro5000R racing calipers
One pair 340x28mm 60 vane, J Hook racing discs, with fully floating 6061 hard anodized aluminum hats and attachment hardware
One pair caliper mounting brackets and hardware
One pair Spiegler Stainless Steel Brake Lines with abrasion resistant coating
Detailed installation instructions
Brake pads are NOT included with our system. Racing brake pads are a highly personal choice. Many manufacturers include a set of inexpensive, low quality pads with their brake kits. Rather than artificially inflating the price of our system with a set of pads you probably don't want anyway, we've decided to remove the cost from our system and allow our customers to choose the pads that best suit their needs/wants. When purchasing our kit, you are able to choose one set of front pads at a substantial discount vs. the retail price. Please use the drop-down menu to select your pads.
RADI-CAL
"Radi-CAL" is a blanket term used to describe AP Racing's patented asymmetrical brake caliper design. Radi-Cal technology is grounded in Computer Aided Design (CAD) and Finite Element Analysis (FEA), and allows for organic, alien-looking designs that are a radical departure from conventional caliper designs of the past. Radi-CAL's are widely considered the pinnacle of current brake caliper technology. Since their inception in 2007, these revolutionary calipers have amassed a lengthy string of race victories at all levels of professional motorsport, while redefining brake performance expectations. For more details on the design concept and what these calipers have achieved in professional racing, please visit our blog and read The AP Racing Radi-CAL Story.
The key benefits of the Radi-CAL design:
Massive Stiffness Increase- A 30+ % increase in both static and dynamic stiffness vs. conventional calipers allows for far less deflection under load, which means superior pedal feel & modulation, more even pad wear, and longer caliper service life.
Considerable Mass Reduction- Removing all extraneous caliper mass lowers the caliper weight, despite the huge stiffness increases.
Optimized Airflow- Air moves around and through the caliper more efficiently, providing superior heat evacuation and cooling.
Efficient Packaging- The asymmetric caliper profile and internal fluid porting allows the caliper to fit into tighter spaces.
CALIPERS
CP9449 PRO5000R, THE EVERYMAN RADI-CAL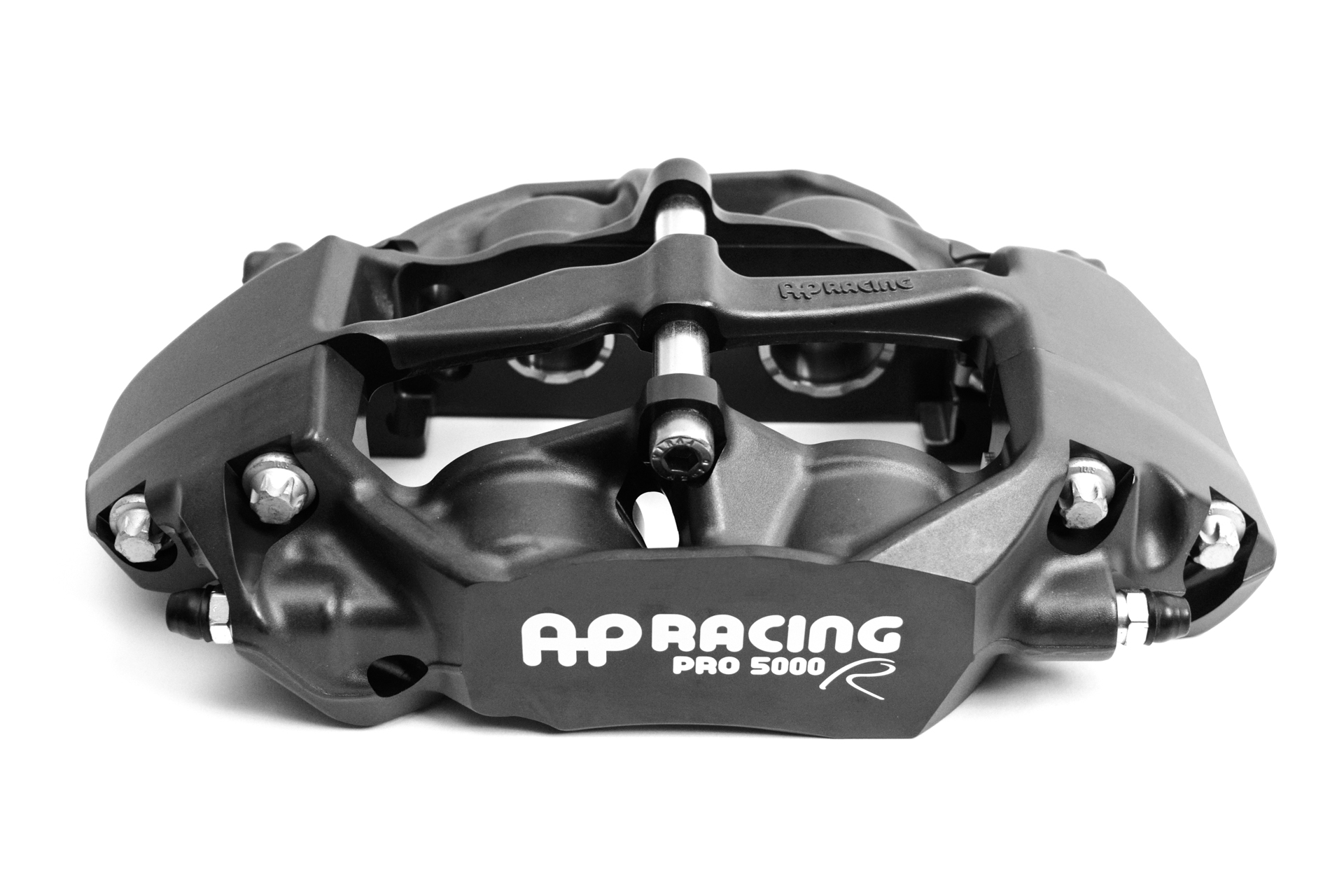 It has taken eight years, numerous generations of the design concept, and advancements in manufacturing techniques, but the Radi-CAL has finally evolved into a viable solution for racers and enthusiasts of all levels and budgets. While many products are supposedly born in racing, there can be no doubt about the Pro5000R pedigree. These calipers are direct descendants of the current crop of F1 and Sprint Cup calipers. They don't look ordinary, because they're not ordinary. They're the epitome of pure racing design: elegant, sparse, and brutally effective. And while they embody and employ the Radi-CAL design philosophy of the past, they also add some outstanding new features that enhance their practicality, convenience, and appeal. Quite simply, they are the lightest, stiffest, and most technologically advanced brake calipers that have ever been within the average enthusiast's grasp.
These intricate calipers have traditionally been machined from proprietary aluminum alloy billets. As one can imagine, machining away all of that material to achieve the final form is both time-consuming and costly. As a result, the price of these calipers has historically been prohibitive for the average club racer, time-trialer, or HPDE participant. Fortunately, the Pro5000R calipers use a new drop-forging technique that has dramatically lowered the manufacturing cost and the resulting price of entry, bringing this incredible technology to the masses.
Radi-CAL = Massive Dynamic Stiffness Increase
Over the years, many different strategies have been employed to shrink the brake caliper footprint while maintaining adequate stiffness: More robust caliper bridge designs, two-piece calipers with steel through-bolts, exotic materials (i.e. Beryllium, MMC), forging rather than casting, monobloc design, etc. All of these innovations pushed calipers towards becoming lighter, smaller, and stiffer. However, until the advent of the Radi-CAL, the same basic rectangular, boxy shape remained the accepted standard.
Is a rectangular box really the most appropriate and efficient shape for a brake caliper however? AP Racing has now proven that it is not. As a brake caliper clamps brake pads against a spinning disc, a tremendous tangential friction force occurs between the pads and the spinning disc. In other words, the caliper is pulled strongly in the direction of the spinning disc, as represented by the downward pointing arrow on the right side in Figure 1 below. The caliper resists that force via the spindle hard mounting points, depicted by the upward arrow on the left. The dynamic load placed on the caliper twists or pulls the caliper into a parallelogram shape.
Figure 1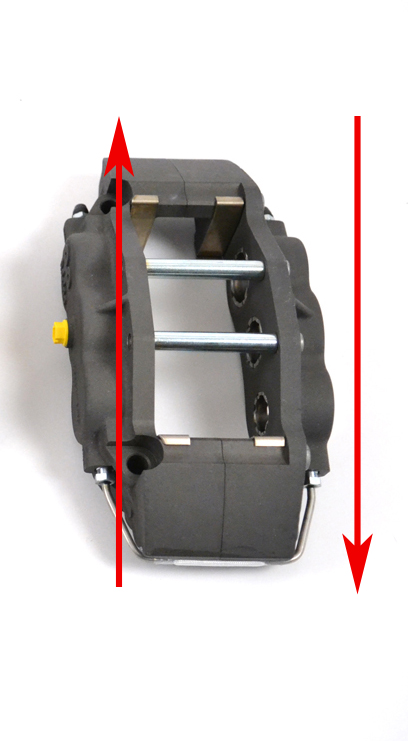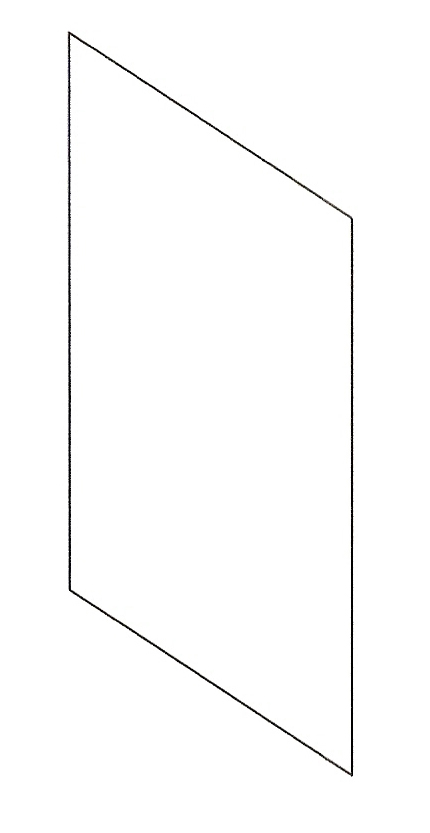 The dynamic force exerted on the calipers during a braking event is the key to the magic of the Radi-CAL design philosophy. Brake calipers of the past were designed to some extent in relative isolation from the forces that they were attempting to combat. They were designed to be the stiffest box possible while resting on a table, with much of the caliper mass residing at either end. The Radi-CAL is dramatically different because it was deliberately designed around the braking event forces that will be acting upon it. This is achieved by optimally distributing the body mass of the caliper on a diagonal, rather than at the two caliper ends. As such, the forces dynamically acting on the caliper are supported by the caliper mass, rather than what historically has been an empty box (see Figure 2 below). At the same time, this also allows for a significant reduction in overall mass, because all non-essential, non-load-bearing caliper body material is removed. So in the case of the Radi-CAL, it's not just about the material that is put into the caliper, it's about the material that is taken away!
Figure 2